As an avid seashell collector, I often find myself with containers and bags full of them and no idea what to do with them. A variety of seashell shapes found from various beaches and oceans… they do deserve to be appreciated some way. Here are some ways to give them a re-birth and new way they can be admired.
1. Paint them.
Image cred: https://www.google.com/url?sa=i&rct=j&q=&esrc=s&source=images&cd=&cad=rja&uact=8&ved=0CAUQjhw&url=http%3A%2F%2Fmamapapabubba.com%2F2013%2F08%2F07%2Fsimple-summer-fun-seashell-painting%2F&ei=9xZsVKDrHoKUNuT4gMgM&bvm=bv.79908130,d.eXY&psig=AFQjCNH1wi9-k_fO72nQu2mAZH-bIc_HFA&ust=1416456261029295
I have spent hours hand painting seashells…with nailpolish. There is something about the luster and shimmer that is in nailpolish that leaves such a pretty finish than just regular paint alone. It also has a great way to adhering to the shells and does not chip nearly as much as when you would put the nailpolish on your actual nails. There are so many delightful colors to find at your local drugstore.. and the cheap $1 section will do just fine. You can get a couple of the thin brush paint bottles for doing detailed nail design. Then you can try drawing pictures, icons, or initials on the shells. If you mess up, just paint over it and start over again.
2. Glue the shells to something that inspires you.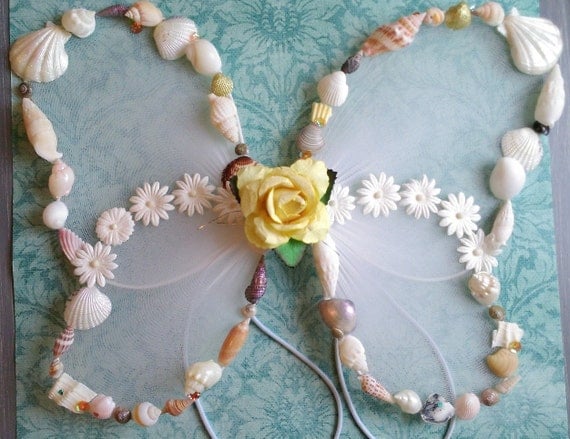 I purchased a small pair of fairy wings and knew that I would figure out what I wanted to do with them. I decided to glue small seashells and paper flowers around the trim for an inspired "beach baby" wings look. I am currently selling them on my etsy store. Check them out here: https://www.etsy.com/listing/170713248/beach-baby-seashell-angel-wings-features?ref=shop_home_active_1
3. Create your own holiday home decor!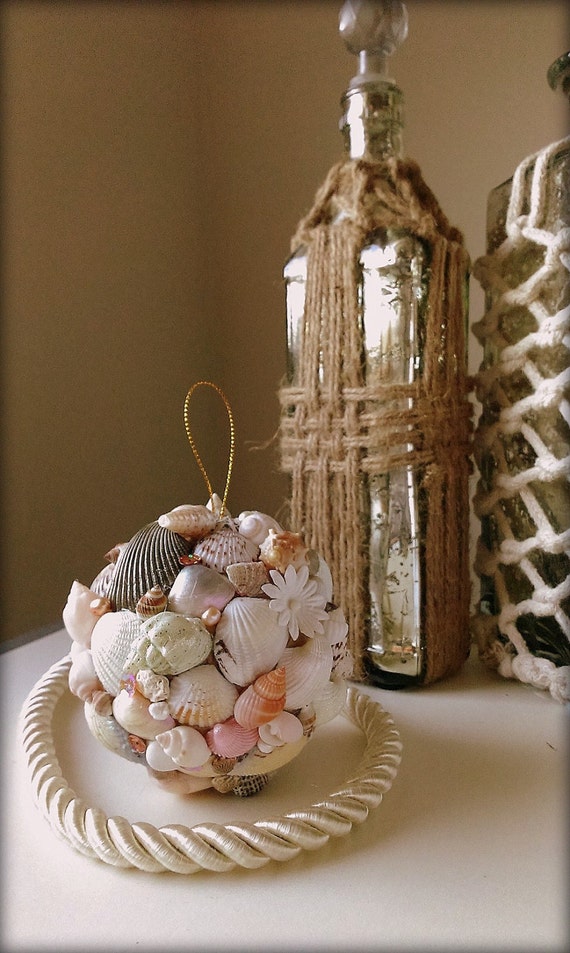 In this case, I covered a plain sphere (you can get brown kraft plain ornament spheres at Michaels or your local craft store) with painted and natural seashells. It is kind of like a puzzle you are putting together. As you glue the seashells around the sphere, you don't want a lot of empty spaces. However, if you do end up with some, glue in some sequins, beads, pearls and other decorative embellishments in between. This ornament is already sold, but I plan on making more. *Please note, these take a lot of time. But don't give up… the final masterpiece is all worth it 🙂 More pictures here: https://www.etsy.com/transaction/166405377?
4. Make fashion accessories!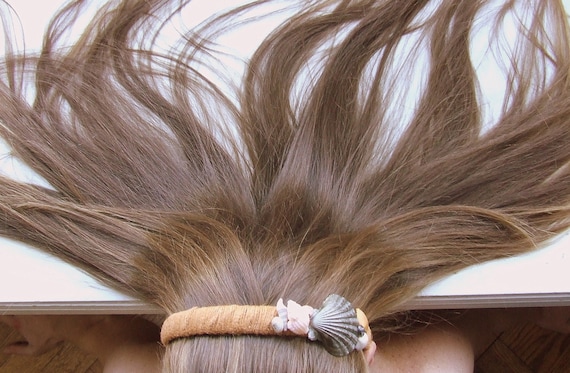 You can create jewelry, headbands, hair clips, bracelets, rings, necklaces and more. Making headbands is fun and easy. Just find some basic plain plastic headbands to use as a base. Sometimes you can get a pack of 3 or more at your local dollar store. Then choose a fabric ribbon you like (1/2″ wide size is a pretty mend-able good size for starters). Start from the base of the headband and hot glue the ribbon on to the edge, then bring it around and wrap the ribbon around headband slowly wrapping on an angle up the side of the headband until you get to the other side. I usually glue the ribbon to the headband every few inches to keep it more secure. Then glue on your seashells at the top. See more photos of this headband and more here: https://www.etsy.com/listing/169168010/burlap-ribbon-wrapped-beach-chic?ref=related-3
5. Window to the sea.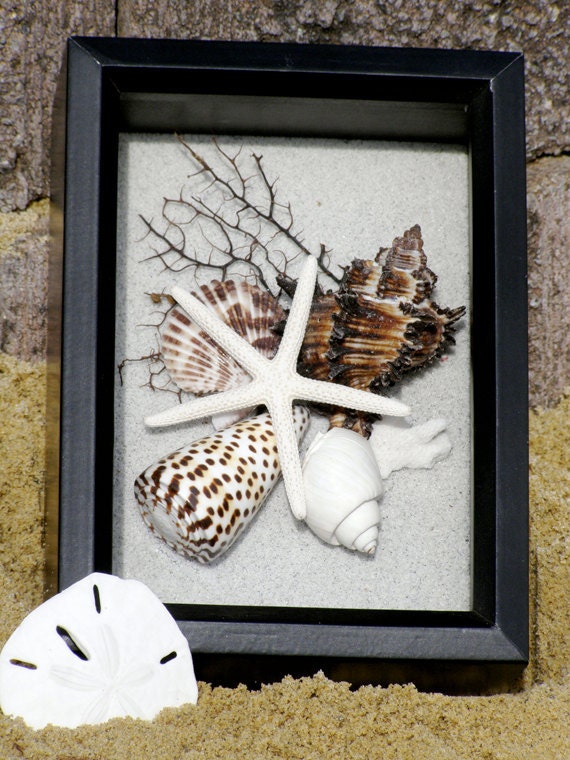 Image cred: https://www.etsy.com/listing/95206233/beach-decor-seashell-shadow-box
Take an old frame or get a shadowbox and build your own beach scene by gluing some sand down (or use a sand textured paper as the background for less mess). Then glue or pin on some seashells,coral, anything that inspires you of the ocean… and walla – you got one-of-a-kind wall art for your bathroom. For some weird reason, a lot of people put ocean and seashell decor in their bathrooms 🙂
Have a creative day 🙂